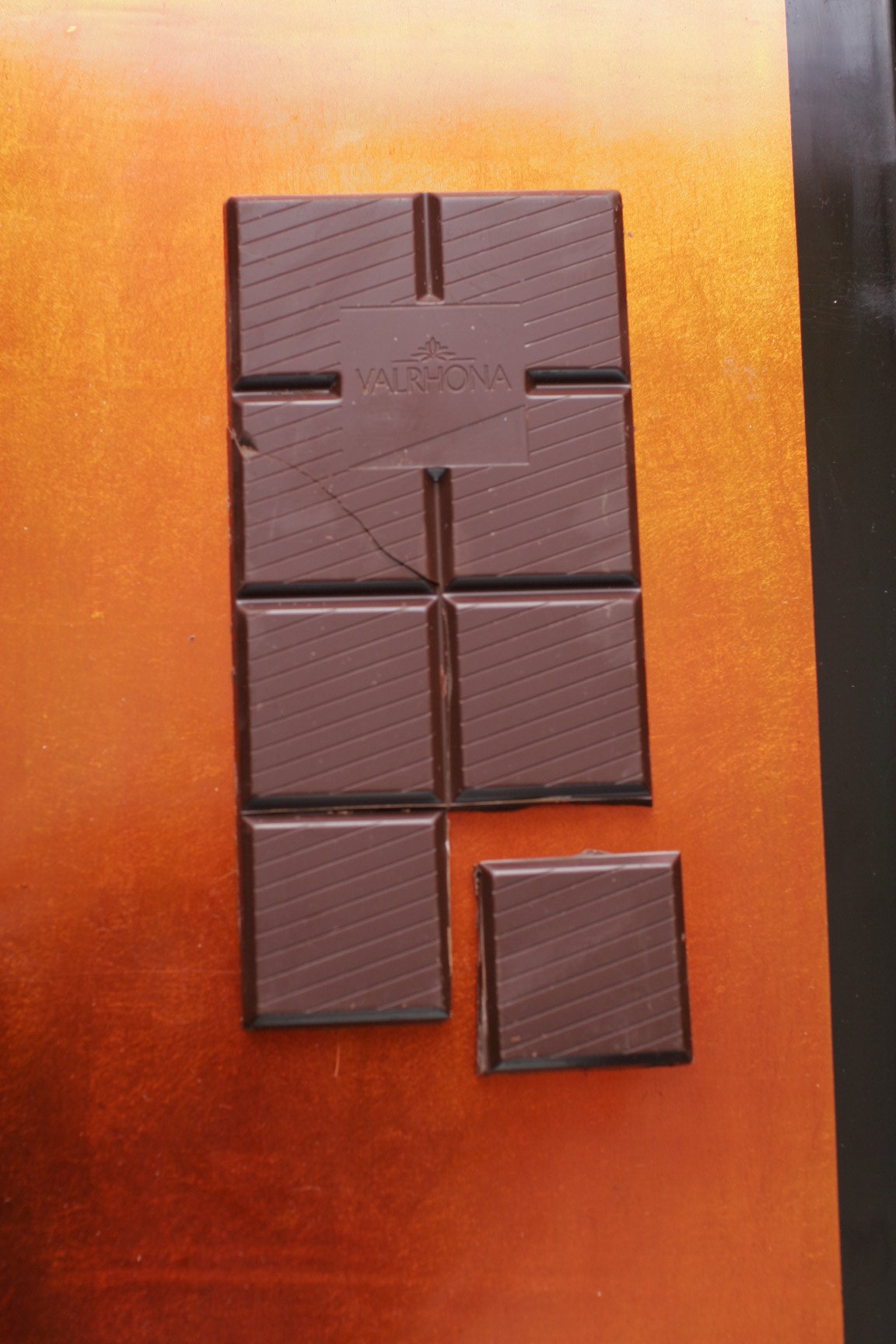 Many of you have asked for additional recommendations for quality chocolates and I must admit that among commercial brands, I am not alone in singling out Valrhona.
Joel Durand in St Remy de Provence, 3 bd Victor Hugo, tel 04 90 92 38 25.  One  has to come here as he has one store though one can buy some of his chocolate at the Grande Epicerie du Bon Marche in Paris and the entire selection on the internet. His chocolate is simply the best (for my taste, and he has a selection called alphabet des saveurs…I am addicted to carre d'or, caramel, cafe, praline noisettes, romarin (rosemary), poivre szechwan (szechwan pepper), thym et cardamone.  He also has little glass jars of creme fruits secs (kids and adults love them on a piece of toast for breakfast especially the praline with almonds of provence and fresh rosemary), creme caramel (which alas we also eat with a teaspoon!) and a wonderful selection of jams made with the best local fruit.  Everyone I have brought to this shop over the last ten years has become a faithful customer and a Durand addict.  We all try small doses.  If you come during the summer he makes a tiny dark chocolate cube on a wooden stick. The inside is ice cream and the flavor changes a few times a week… delicieux.  It often is our treat of the day.

In Paris, my favorites include the wonderful Marcolini, down the street from where I live on rue de Seine. These handcrafted chocolates by the talented Pierre Marcolini are divine, particularly his collection of petit carres and coffee dark chocolates which are sometimes difficult to live without. Jean-Paul Hevin's shop, also near my home in Paris, is another much loved chocolatier. It's not uncommon for me to find myself there once a week. And last, but certainly not least, Michel Cluizel, which is now available throughout the U.S. at most high end grocery stores.
I'm happy to report that artisan chocolatiers in the U.S are making some great chocolate. I love Vosges, Scharffen Berger, Theo and Fran's.
On my book tour for French Women Don't Get Fat I visited a resort in Paradise Valley, AZ, that orders special chocolates for special guests. When I arrived I had this incredible selection made by an amazing young woman, Julia Baker, who was living in town and "freelancing" for the hotel. She came to my reading the next day and told me how she loves France, trained in Paris and is totally devoted to zee best. I recognized her talent and was happy to find out recently that she's opened her own shop in Scottsdale, Julia Baker Confections.
And then there is Recchiuti Confections . . . I've tasted most of what they make at some point or other, but my three favorites remain: force noire; kona coffee (maybe because I think chocolate pairs best with coffee); and last but not least piedmont hazelnut.
On my most recent trip to Paris, I fell in love with Chocolaterie de Beussent, located at 21, rue de Bourg Tibourg 75004 Paris and Jean-Charles Rochoux's shop, on 16, rue d'Assas 75006 Paris.
My latest favorite chocolatier du jour: Patrick Roger. Would you believe his shop is located five minutes from my home? Fate again! Unfortunately, if you want to taste these chocolates, you will have to visit Paris as Patrick Roger only has 5 shops in the Paris area–or have a friend ship you some. I was not in Paris long enough (applying my moderation rule) to taste them all, but what I did taste was sublime: only dark chocolate …tendresse was with caramelized hazelnut, amitié with almond and praline and désir was crunchy praline. Another day we tried mistral with caramel and fleur de sel, opium with almond and walnut and Beijing with ginger. Can't wait to go back for another tasting!
Patrick Roger is located at 108 bld St Germain, Paris 6ème, tel 01 43 29 38 42. Visit his Website.
Remember chocolate should be tasted at room temperature . . . and as with wine read the flavor descriptions, enjoy the aroma, sense the texture by chewing ever so slowly to get that velvety smooth texture and savor the unique flavor of each piece. Don't forget the last step: the aftertaste. Remember that with all good things less is more, and it's all in the first bites.
Vive le chocolat!