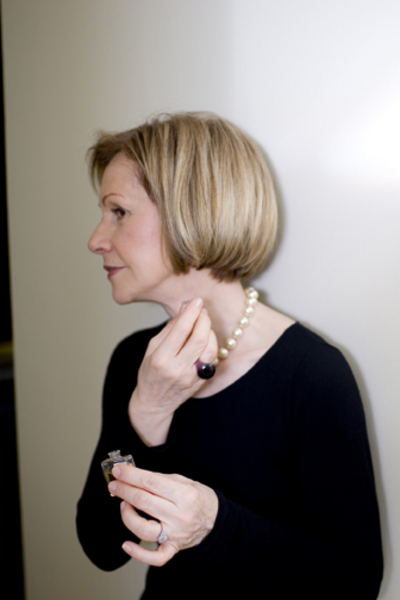 By contributor Erin Jones
A few things are synonymous with French culture: champagne, cheese, fashion and bien sûr, perfume. As Mireille always says, "French women know one can go far with a great haircut, a bottle of champagne and a divine perfume."
The trouble with fragrances is that they're entirely subjective. Sure, some classics have survived the test of time: Chanel No. 5, Yves St. Laurent's Opium, Nina Ricci's L'Air du Temps and Patou's Joy. But these days, it seems most women are looking for something a bit more contemporary. With the overwhelming amount of new perfumes being manufactured daily, how to choose one that's right for you?
Let Your Nose Be Your Guide
The tricks to finding a good perfume are comparable to finding a good wine. It's all about personal preference. Always sample a fragrance on yourself before you purchase it. Just because a scent smells nicely on a friend or co-worker doesn't mean it will work for you. Every experience with perfume varies depending on the season, time of day, personal skin type, even the weather and your mood! You'd be surprised how differently a fragrance can smell on oily versus dry skin. Similarly, you may have noticed how overbearing some perfumes can smell on a hot, humid day. While you may be naturally drawn to spicy, musky scents, they have no place in the sizzling months of summer.
Eau de toilette is meant to be pleasant, seductive and is very suitable for hot days. Never overpowering. It should heighten your natural sexiness just enough to tease the senses. To make the most of perfume the French way, here's a guide to some of the current popular scents for each season.
SUMMER:
During warm seasons, it's best to go very light on perfume. Humidity and heat can intensify smells. Look for fresh, clean fragrances with hints of fruit.
Chance Eau Fraîche by Chanel is a new spin-off of the original Chance. The zesty citrus scent and notes of jasmine are for summer daytime wear.
Ralph by Ralph Lauren is for the woman who doesn't care for fruity scents. It's fresh and sporty, wearable both day and night.
Need to cool down a bit? Green Tea by Elizabeth Arden has notes of lemon, rhubarb and even peppermint, a refreshing mix of aromas for daytime in any warm climate.
Truly Pink by Vera Wang is a romantic scent. The clear notes of roses matched with floral undertones of pink lilies, peonies and irises will make a summer night seem a bit more elegant.
FALL:
Trade the citrusy, fruity notes of summer for some deeper floral and earthy fragrances this season.
If you love lavender, Eau de la Recolte Bleue by L'Occitane will take you to the lavender fields of Provence in one whiff. Undertones of marigold and freesia make this scent even more robust, and suit a crisp autumn day.
Want to feel sexy? Stella by Stella McCartney is the choice of fragrance for a romantic evening. The seductive undertones of rose are strong enough for cold autumn evenings, but subtle enough for spring, too.
Bath by Bobbi Brown is a very modern fragrance, desirable for those looking for a unique scent. Inspired by the 'fresh out of the shower' feeling, notes of water hyacinth, orange, sage and sandalwood combine to give a clean, light aroma for casual wear.
WINTER:
Tis the season to start experimenting with some stronger scents. Think woodsy, spicy and even musky.
Marc Jacob's original signature belongs to the winter months. A blend of musk and gardenia makes a soft, floral bouquet of fragrance. Ideal for night, but can also be worn casually.

Poison by Christian Dior is a classic. This designer scent has been gracing the necks of women for over twenty years. Amber, honey, berries and spices create a bold, romantic aroma that is especially seductive for evening wear.
Another original signature scent, this one from Michael Kors, boasts a red wine fragrance, blended with spice and roses. Robust and hearty, this fragrance is best suited for evenings.
SPRING:
Welcome the season of reawakening with exotic floral fragrances and delicate feminine scents.
The original Vera Wang is a bouquet of striking scents. Hints of mandarin, lotus and iris combine to create a flawless spring perfume that's both playful and refined.
Hanae Mori's Butterfly is a complex fragrance. Earthy notes of patchouli and sandalwood meet strawberries and almonds. The result is an almost vanilla scent that's apropos for any occasion.
In Two Peony by Stella McCartney is sweet but woody. Perfect for daytime wear while puddle hopping around town in those April showers!
Now, in addition to mastering the art of wearing perfume, the French have a secret tip when buying. Bigger is not better–always buy the smallest bottle. Perfume, like wine, oxidizes once it is half full (or less). And if you're using it the way you should (just a drop each day or night) the bottle will oxidize and lose it's magic before you could ever reach the bottom.
If filling your vanity with bottles of perfume for every season and occasion is not your style, or within your price range, try the versatility of Sheer Veil by Vera Wang. Its soft, subtle scent makes it a lovely choice for day and night, romantic and casual, all year long. Further, eau de toilettes are generally less expensive. The latest out is Vetiver pour elle by Guerlain.
Jean Patou, creator of one of the most classic (and French) fragrances of all times, once said, "Just like men, perfume is never perfect right away; you have to let it seduce you." I leave it to you now to find one that does the trick for you.