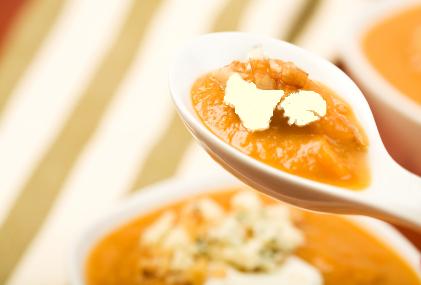 Those females in my family, with their tireless imaginations, would find no end of ways to slip in an extra food group, turning a soup into a more nutritionally balanced meal. Why make a béchamel when protein is so easy to add in the form of a little cheese? With good bread and some fruit, how could you want more?
Ingredients
2 tablespoons olive oil
1 onion, minced
2 shallots, minced
1 pound potatoes, peeled and cubed
1 pound carrots, peeled and sliced
1 sweet pepper (green, yellow or red), seeds removed, sliced into 2-inch strips
6 cups water
6 ounces feta cheese
1 tablespoon lemon juice
Salt and freshly ground Pepper

Yield: 4 Servings
Recipe
Warm the oil in a large pot over medium heat, and sauté the onion and shallots until translucent. Add the potatoes, carrots, sweet pepper and water. Bring to a boil, then lower the heat and simmer for 15 to 20 minutes. Sprinkle with the feta, and add the lemon juice. Season with salt and pepper to taste, and serve.