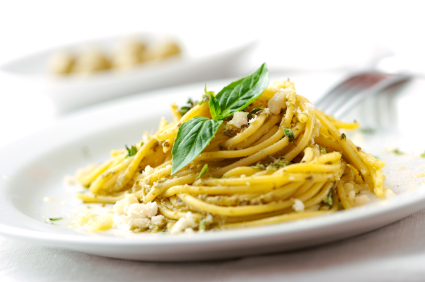 Cauliflower can be sexy. My Venetian friend Carla thinks so. If it is not the sexiest of all vegetables, it has its nutritive qualities and can benefit from a simple treatment to become glamorous.
Ingredients
1 lb whole wheat spaghetti
1 cauliflower
2 garlic cloves
1/2 cup fresh breadcrumbs
Salt and freshly ground pepper
Extra virgin olive oil

Yield: 4 Servings
Recipe
Cook the spaghetti in boiling salted water until al dente. Drain. While the pasta is cooking, steam the garlic cloves and the cauliflower florettes till very tender. Pour over spaghetti. Season to taste. Drizzle a bit of olive oil on top and add the breadcrumbs just before serving. Serve with the local white wine, pinot grigio from Friuli. Note: The secret of this recipe is in the proportion...You don't need to use much olive oil. Make you sure use enough cauliflower (and very well steamed) in order to make the mixture creamy.