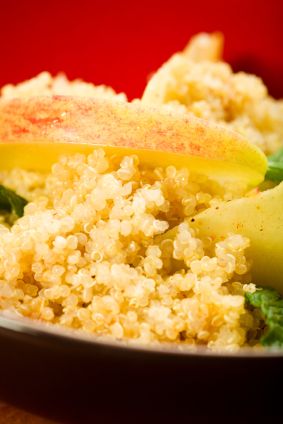 Maybe it's the recent press about all the "fake" food out there and the polluted fish or pigs raised with antibiotics, etc., that has scared a lot of my compatriots, but lately I've noted a lot more veggies meals even in restaurants. In The French Women Don't Get Fat Cookbook I have four recipes with quinoa. Here is another one I recently enjoyed which does not take more than 20 minutes of cooking time and is a perfect one-course summer lunch or dinner:
Ingredients
8 ounces quinoa
1 tablespoon slivered almonds
2 tablespoons olive oil
½ teaspoon freshly grated nutmeg
½ teaspoon ground coriander
Freshly ground pepper
1 tablespoon golden raisins
2 tablespoons fresh mint, coarsely chopped
5 ounces each of strawberries, peaches, apricots
1 tablespoon sherry vinegar
4 oz Chabichou (or any creamy goat cheese), cut in small pieces

Yield: 4 Servings
Recipe
Cook quinoa following package instructions. Cook the almonds in frying pan over low heat till golden. In a bowl mix olive oil, nutmeg, coriander, and pepper. In a second bowl mix quinoa with raisins and mint. Ten minutes before serving dice the fruit and pour the juice into a small bowl. Add vinegar to juice. Mix fruit with olive oil mixture and add juice and vinegar. Add cheese pieces and sprinkle almonds over. Serve immediately. NB. Experiment with other fruit. Melon is now in season if you can't find apricots. It's a delicious alternative.