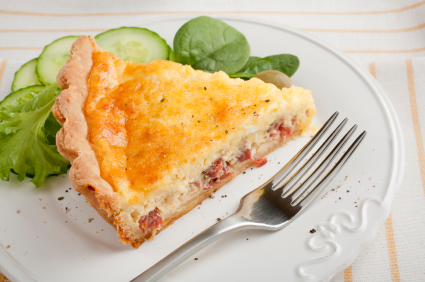 If French women take something as simple as cheese puffs personally, imagine how passions could fly in the province of Lorraine over versions of the namesake quiche. That's one fray I never entered, though I was ever of the opinion that Mother knew best. Whenever we had guests for lunch on Sunday between fall and Easter, Mamie would give us an early breakfast so she could start her fameux déjeuner du dimanche: her classic quiche, which can serve as a starter or the single course at a fancy brunch. You could have it with a mixed green salad, unless you prefer to add steamed broccoli or leeks to the quiche batter. Either way, in Alsace, it was well complemented by a glass of the local white or a light red wine. Quiche became quite a rage in the United States a decade or two ago. It got to the point where the claim was being made that real men didn't eat it. But what I found was that men, real or otherwise, and women too, were not having real quiche. The heavy quivering dish often served cold or reheated after sitting for who knows how long in a glass case: this was not the quiche I knew. Here's what real French women eat.
Ingredients
1 unbaked pâte brisée, purchased or made from scratch
4 eggs
1⁄2 pint heavy cream or créme fraîche
4 ounces Gruyére or Jarlsberg cheese (or a mixture of both), grated
Salt and freshly ground pepper
3 ounces bacon or pancetta, cubed

Yield: 6 to 8 servings
Recipe
Preheat the oven to 325 degrees. Roll out the pâte brisée. Line an 8-inch tart pan with the dough, cover it with foil, fill the foil with dried beans or pie weights, and bake in the preheated oven for 10 minutes. Raise the oven temperature to 375 degrees. Beat the eggs, add the heavy cream and cheese, and season with salt and pepper to taste. Push the bacon into the pre-baked crust, and pour in the egg mixture. Bake for 30 to 40 minutes, until set and slightly golden. Serve lukewarm.