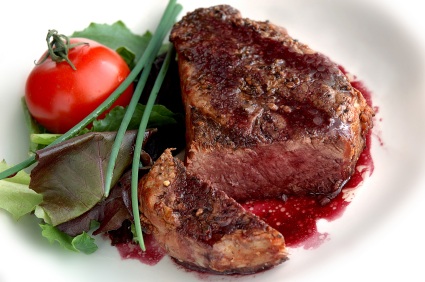 There is not much more a good steak needs than a bit of seasoning and grilling. While I don't generally recommend tampering with perfection, as the chilly months come on, we eventually put the Weber away. When we cook steak less primally, I love to use this wine sauce. It's perfectly natural that preparations become a little more elaborate as the season progresses. The richest ones are best had in winter. My friend and Alsatian compatriot Jean-Georges Vongerichten, chef and restaurateur known for the brilliant flavors, not the richness of his creations, used to make this dish when he apprenticed on the French Riviera at Louis Outhier's L'Oasis in La Napoule, a three-star restaurant of many nouvelle cuisine pilgrimages. I have adapted it slightly.
Ingredients
1 cup plus 1 tablespoon red wine (separated), such as a Côtes du Rhône
2 cloves garlic, peeled and crushed
Salt and freshly ground pepper
1 tablespoon unsalted butter
2 16-ounce steaks

Yield: 4 servings
Recipe
Combine 1 cup of the red wine and the garlic in a small saucepan. Bring to a boil over high heat, and cook until reduced by half (it will take about 10 minutes). Strain out the garlic, and season generously with salt and pepper. Return to low heat, and stir in the butter and the remaining tablespoon (uncooked) red wine. Grill the steaks without adding anything to them. When ready, let them rest for a few minutes on a plate, then pour the sauce over them. Drink the rest of the wine with the meal.