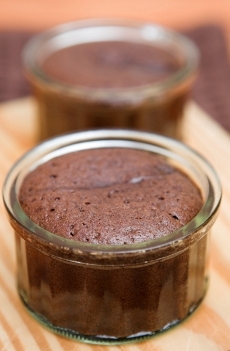 Soufflés are easy to make once you know the technique and have had some practice, but they are not practical to make when entertaining, as they require your attention and time away from your guests. Plus, the fear of the soufflé falling is not worth the risk. Instead, here's a recipe you can prepare ahead of time for a cold soufflé that is yummy and impressive.
Ingredients
8 ounces dark chocolate (over 60% cacao minimum)
4 egg whites
Salt
4 egg yolks
2 tablespoons strong espresso coffee

Yield: 4 servings
Recipe
Melt the chocolate in the top of a double boiler set over a pan of simmering water on medium heat. Beat the egg whites with a pinch of salt until stiff, glossy white peaks are formed. Whisk the egg yolks into the chocolate. Stir in the coffee. Gently fold in 1/3 of the whites, and then fold in the rest. Pour the soufflé mixture into 4 molds, cover with plastic wrap, and refrigerate overnight. Bring to room temperature before serving.