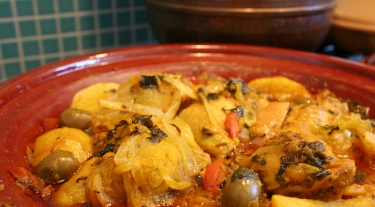 Pastis: the Provençal drink par excellence. Let me be honest: I have never been able to drink pastis, the anise-based liquor . . . too strong for me. Many of my women friends feel the same. One can get drunk fast. I love the smell of it, but when I grew up, I saw too many village pétanque players drinking lots of pastis, and the final picture was not so nice. It goes to your head pretty quickly, and the stuff being so refreshing (an ounce or so mixed with water and ice), it's easy to go for seconds and thirds. Now, there is finally an alternative, and I must say I love it. It's pastis without the alcohol and without the sugar. On the other hand, to cook with pastis you must use the real thing, and it is delicious and available in wine stores. In Provence, we cook rabbit with it, and my friend Georgette introduced me to this dish years ago. I've tried it with chicken for my New York friends and find the dish equally yummy. One more way to cook chicken. All my friends love it.
Ingredients
Marinade:
2/3 cup pastis
1/3 cup olive oil
Salt and freshly ground pepper

Chicken:
1 3-pound chicken, cut into 8 pieces
3 tablespoons olive oil
2 onions, peeled and sliced
4 tomatoes, diced
4 cloves garlic, minced
2 teaspoons fennel seeds
2/3 cup black olives, pitted and chopped
1 cup basil, slivered
Salt and freshly ground pepper

Yield: 8 Servings
Recipe
Mix the pastis and oil. Season with salt and pepper to taste. Arrange the chicken pieces in one layer in a shallow dish. Drizzle with the marinade and cover the dish with plastic. Refrigerate for 2 hours (it's even better to do the day before and let marinate overnight). Warm the 3 tablespoons of oil in a cocotte over medium heat. Add the onions and cook until softened, about 6 minutes. Add the tomatoes, garlic and fennel seeds. Continue cooking for 15 minutes, stirring occasionally. Add the chicken pieces and the marinade to the cocotte. Cover and simmer over medium-low heat for about 30 minutes. Add the olives and 1/3 of the basil. Cover and continue cooking until the chicken is tender, about 30 minutes. Season with salt and pepper to taste and garnish with the rest of the basil. Serve immediately. Note: You can serve this with rice or noodles and drink a red Côtes du Rhône.