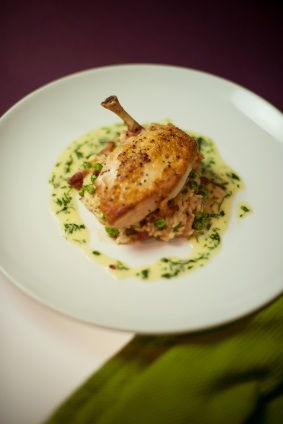 Here's a quick dinner that never fails to please. My guests always ask for the recipe and think I've been cooking for hours, but it is done in little more than half an hour. And there is zero fat added; the chicken cooks in Champagne. Cooking with wine adds flavor but the calories of the alcohol burn off in the pan. Vermouth, Pernod or any number of earthy reds or whites can add depth to a dish, but for elegance of finish nothing beats Champagne. I often make this dish on a workday when pressed for time, especially when entertaining on a weeknight. Once you get it going, it needs no minding, giving you ample time to prepare the rest of the dinner.
Ingredients
4 chicken breasts (with skin and bone)
Salt and freshly ground pepper
Chervil, tarragon, or thyme (optional)
1 shallot, quartered
1 cup Champagne (Veuve Clicquot Yellow Label Brut recommended)


Yield: 4 Servings
Recipe
Place the chicken breasts in a roasting pan, and season them. Pour 1/2 cup of the Champagne over breasts. Make a slit in each breast and insert a piece of shallot. Place the pan under the broiler, skin-side up, for 3 minutes, until the skin is nicely browned. Turn and broil the other side for 5 minutes. Remove the chicken from the broiler, baste with the pan juices, and add the remaining 1/2 cup of Champagne. Adjust the oven temperature to 475 degrees and bake the chicken for 30 minutes, basting once or twice. Serve over brown rice. Sautéed mushrooms add a special touch and go beautifully with Champagne. (In a warm frying pan with a touch of olive oil, add clean, roughly chopped mushrooms, and cook for a few minutes. Add a few drops of lemon juice, freshly chopped sage, seasoning to taste and 1 tablespoon of butter.) Pour the cooking juices from the chicken over the meat and rice. Serve the remainder of the bottle of Champagne (about 6 glasses) with the meal.