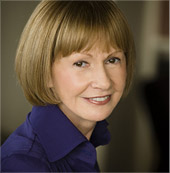 May 20, 2010
Bonjour mes amis,
It has been a treat to connect with so many of you on my cookbook tour, which has now taken me to Toronto, Boston, LA, San Francisco, Seattle, Chicago, New Jersey, Connecticut and, of course, a few events in my hometown of Manhattan. I've shared wonderful meals and heard inspiring stories from those of you who have changed the way you eat and live, savoring more and rushing less, developing a healthy relationship with food. I hope I've inspired a few more people to head to the kitchen and cook…and then take the time to sit down and enjoy the meal. I keep hearing from people who have tried my recipes, they can't believe how quick and simple they are! It's true: maximum results for minimum effort…the French woman's mantra. No excuse not to cook when it takes less time than picking up take-out.
In this über-connected world we live in today, some people wrote blog posts after my events, and I thought I would let them tell some stories from my tour. The following blog post was written by a woman I shared a lovely meal with in San Francisco who has embraced the French Woman lifestyle:

http://weirdcombinations.com
And here is another one from a woman who came to one of my Seattle events. I inspired her to try the Magical Breakfast Cream from The French Women Don't Get Fat Cookbook, and she describes her personal variation (there are so many possible variations—I invite you to try your own, based on your tastes and preferences):

http://www.familyfriendlyfood.com (As a side note, I would recommend mixing together the cereal and yogurt to form the "cream.")
On top of my events, I was also lucky enough to have a few incredible private meals on the tour, both alone and with friends…on top of a "wow" dinner at Park No. 9 in Boston, another favorite was at Acquerello in San Francisco…an unbirthday present with a friend..awesome. Chef Suzette Gresham-Tognetti is a star, preparing contemporary Italian fare like you see below…
Poached ranch egg with morels, shaved purple haize asparagus and truffle drizzle
Ravioli filled with English peas, whole milk ricotta, lemon and mint in a sweet pea brodo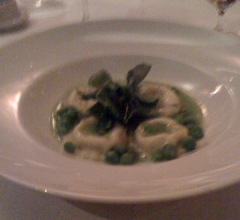 Seared dorade with spicy cauliflower, red pepper and almond sauce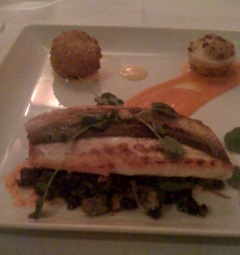 Arctic Char with shaved zucchine, salmon conserva, ramp sformato and fava beans
Vanilla scented panna cotta with preserved figs and Marcona almonds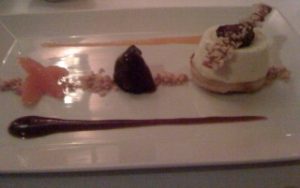 Chocolate gianduja with orange scented cream and burnt orange sauce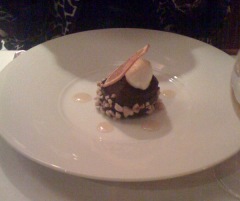 In short, it's been a very yummy tour and I've enjoyed every bite! Un grand merci to all for your support of my cookbook and your enthusiasm for the French lifestyle, the art of cooking (and eating) and the pursuit of joie de vivre.