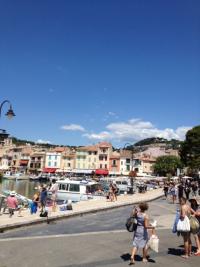 Cassis makes me feel so proud of my side of Provence…which offers great diversitiy with cities like Avignon, Marseille, St Remy de Provence and Arles, but also a range of wonderful smaller places worth a visit from les Baux to Aigues Mortes or Saintes Marie de la Mer to the small though famous resort of Cassis at the very end of the "Bouches du Rhone" department, number 13, lucky number no doubt…near the beginning of the "Var" that extends to the Cote d'Azur. A few recent trips to show it to friends longing for the sea made me realize how it has both changed and stayed the same.
Like so many little towns along the coast, expansion has soared but at least there are no skyscrapers and a lot has remained the same, from the picturesque little port to the semaphore and the view on the Cap Canaille and the old chateau, now a superb B&B.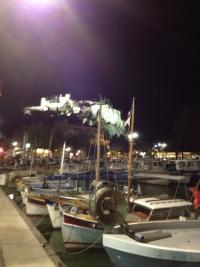 In town the locals still favor the simple fare from La Poissonnerie for grilled sardines, mussels or anything on the unpretentious menu to the locals' cafeteria La Vieille Auberge, literally next to each other toward the end of the port, with Nino nearby as good if you feel like eating Italian. Don't expect the moon as you are on a port and it's summer, but still these are perfectly good values and fun to sit on the terrace.
We had a splendid meal at a priceless little joint, La Goccia d'Olio, we hit by chance as every place was booked on that one night when we returned starving from a romantic boat ride at sunset to two of the most beautiful calanques.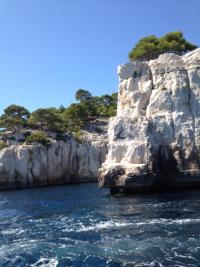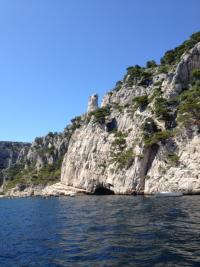 We fetched the last table on a small quiet street a few steps from the harbor. Dining al fresco with spaghetti alla vongole, veal with fresh girolles and a light tasty tiramisu with the local rosé was a perfect way to end the day. La Villa Madie is the hot recommendation in town but we'll save it for next time.
A side trip to the Var on the way back was short enough to explore two lovely villages, La Cadiere d'Azur and Le Castellet. The latter has a two-Michelin-star restaurant but we picked the former and had a splendid lunch at the one-Michelin-star Hostellerie Berard where father and son are creating dishes with produce coming from their nearby garden, and the vegetables tasted like they had been picked an hour ago. Service and welcome were top.