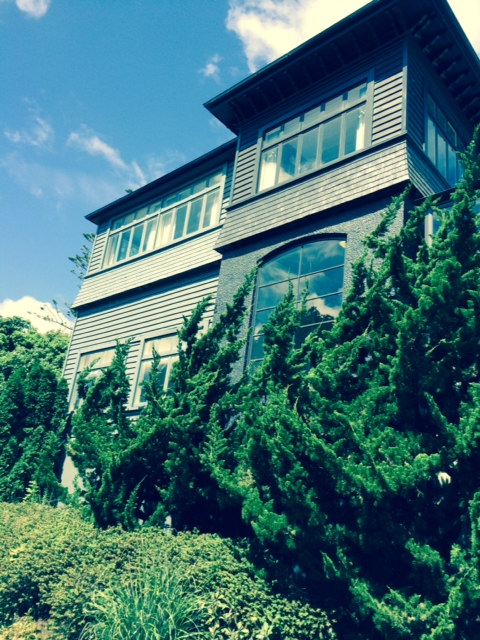 I absolutely undoubtedly unequivocally love New Zealand…the land, the people and much more. Wow. What a quick but joyful and fascinating book tour with many a "first," from lecturing at the splendid Villa Maria Estate winery in Mangere to the Prime Minister's residence in Wellington to a lovely evening at Middleton Grange Performing Arts in Christchurch and meeting the press in between.

Auckland
After a long but delightful flight NYC-Auckland (NZ and Qantas could teach a thing or two to many foreign airlines) with exemplary service, great comfort and superb eatable food and no delay, I landed fresh and rested in NZ's largest city for a full day of rest.
Auckland truly has the appeal of a small town with the style of a modern metropolis. Staying at the local favorite Hilton was both a treat and a shock…the treat was the minimalist and comfortable room with a terrace and spectacular view of the city and Waitemata harbor, and from my front room with east facing windows a transformed view on the second day thanks to the "occasional" cruiseship docking—surprise, surprise—very early morning and blocking my view and waking everybody up at the crack of dawn.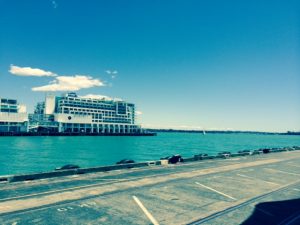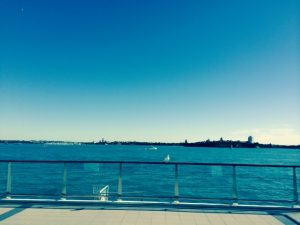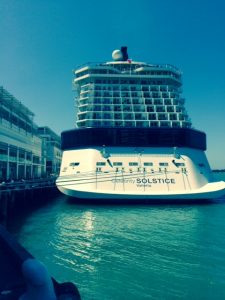 Surreal wake up that was totally unexpected but by early evening it was back to normal with a glorious sunset.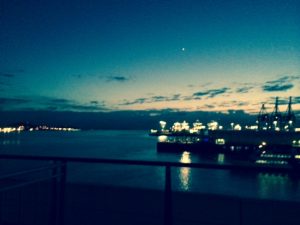 The food at Hilton's Fish restaurant was splendid whether at breakfast (ah those small heart-shaped waffles and perfectly wet (runny) scrambled eggs made with focus and passion by a delightful young lady, lunch and dinner with oysters plenty, the best cobb salad I've ever had—cos lettuce/pancetta/parmesan/croûtons/anchovy chips and chicken—and a buttermilk panna cotta with fresh berries (it's summer time in February) and vanilla ice cream, all nicely washed down with a glass of Pinot Noir from Marlborough Whither Hills.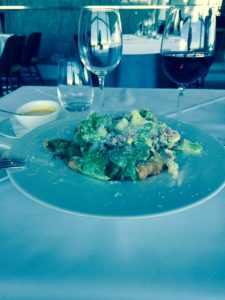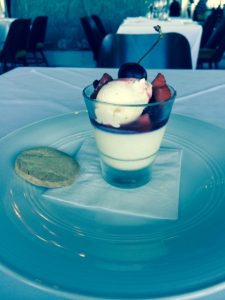 Walking miles through the city neighborhoods, looking at some old buildings like the old post office now a train station or the Old Custom House now a high end mall galleria…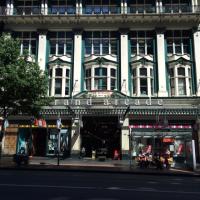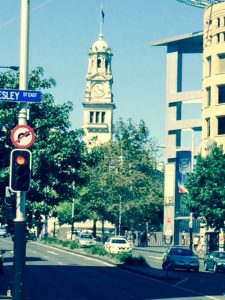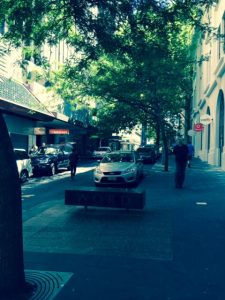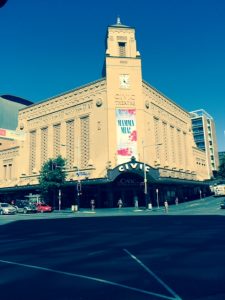 … I had a few additional surprises hitting the small and charming St Matthew church in the heart of the city… and learning how some people get fat….how is this for a first…dogs in the aisle and eating inside the church, see that cup resting on the shelf reserved for the bible (actually the man dropped his coffee and made a mess…) and an unusual after-service late breakfast and/or brunch? The outside was lovely and had space so go figure why the line of young and old was huge inside, and the food was all bad carbs, quel dommage, especially when there is so much nice fresh tasty produce around. Charming neighborhoods include Devonport and Ponsonby which remind me a bit of the West Village in Manhattan with small shops and creative design.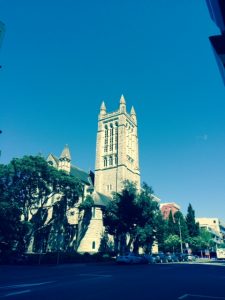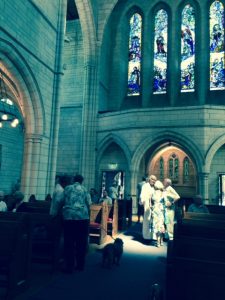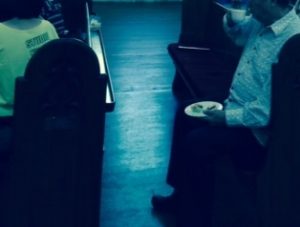 Wellington/Christchurch
Mostly seen in a rush from a taxi between airport and hotel or speaking sites but I definitely add it to my wish list of places to visit. Christchurch was still sad as seeing the reconstruction shows how earthquakes destroy and change people's lives for a long time, though according to locals help has been terrific and work is progressing well. Seeing the cathedral in disrepair always hurts, but the revival is hopeful. The highlight and total surprise was meeting a young French friend and her husband on their one-year world tour of travel and volunteering. We literally only had a few hours, and nothing had been planned in advance but fate gave us the chance to meet and laugh…and cry…and have a late bubbly dinner with oysters together and celebrate life, travel and friendship. We did close the wonderful restaurant in the equally wonderful boutique George hotel at 1:00 am, and I was not too fresh getting up at 4ish to fly to Brisbane but no regret as our getting together in this corner of the world was pretty special.