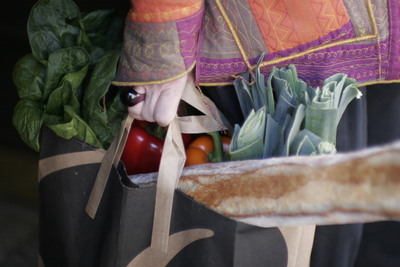 By Erin Jones
Our message boards buzz continuously with questions and suggestions on where to buy quality foods online. As Mireille says, part of living like a French woman will mean searching out and paying a bit more for quality. To aid in your search, we compiled a list of foods you can purchase online or in major cities. The key to cooking, and therefore living well, is the best of ingredients. After all, you really can't go wrong when you start with quality. Happy shopping!
CHEESE
French women can't seem to get enough cheese recommendations. In addition to these wonderful suggestions posted on our message boards here are a few more cheesemakers to consider:
Vermont Butter & Cheese Company—Order your crème fraîche here! Don't forget to visit the recipe section for mouth-watering cheese inspired dishes.
Bellwether Farms—Delicious assortment of cow and sheep's milk cheese as well as a handy wine & cheese pairing guide.

I Love Cheese!—The ultimate cheese lover's web site. Browse hundreds of recipe ideas, information on cheese 'from A to Z' and additional links to online cheese stores. You can select your perfect cheese by flavor and texture.
YOGURT
Not everyone has the time or (let's face it) the patience to make homemade yogurt. But that's no reason to reach for the typical supermarket "yogurt," filled with artificial preservatives, colors, flavorings, sugar and sweeteners. It may take a little extra effort to locate the natural brands, and a little getting used to the plain taste, but your palate and your waistline will thank you!
Fage Total—Pronounced "fah-yeh." this Greek yogurt is a FrenchWomenDon'tGetFat.com member favorite, and a hot topic on the message boards. Fage is distributed to a large handful of US states and may also be ordered online.
Emmi Swiss Premium Yogurt—Made from fresh Swiss Alpine milk, Emmi is so light and creamy you could pour it over a dish as a dressing. The company's web site has a great store locator feature.
Bored with plain? Our members have become very creative in their yogurt consumption. Most women confess they need some extra "add-ins" while they are still getting used to the taste of plain yogurt. Here are some great ideas for healthy yogurt accompaniments:
Cinnamon
Nutmeg
Wheat germ
Granola
Honey (or lavender honey)
Cocoa powder (for an extra special treat, perhaps dessert)
Raw nuts
1 tablespoon of all natural preserves or jam
Any type of fresh fruit: strawberries, blueberries, bananas, apples or peaches
Or, try a combo:
Drizzle of honey, chopped walnuts and sliced bananas
Chopped apples with a dash of cinnamon
Sliced peaches and chopped almonds with a dash of nutmeg
NUTS & DRIED FRUIT
Whether you're preparing Chestnut Soup, or simply packing your en cas, nuts are a supremely nutritious food. Just remember when ordering online to make sure the nuts are raw, not salted, and the dried fruit is preserved without added sugars, bien sûr.
Known for their Oregon dried prunes, Bowyer Farms also has a wonderful assortment of hazelnuts and cherries.
A substantial variety of both nuts and dried fruit can be found at: Nuts Online.

Organic Planet—This is a great source for organic and kosher dried fruits and nuts, as well as specialty grains, spices and beans. Why not try your hand at Mireille's Lentil Soup recipe? Organic Planet is her pick for the best place to find lentils.
Tierra Farms— offers organic nuts and dried fruit.
BREAD
Everything in moderation, and that includes bread. Whole grain bread is a wonderful source of fiber—a nutrient many Americans do not get enough of these days. A diet rich in fiber can help lower cholesterol and reduce the risk of heart disease. Yes, you can say "oui" to bread.

Poilâne—If you can't get to Paris, have Paris deliver to you! This French bakery has been open since 1932 and still bakes traditional, authentic bread.

The Bread Bakers Guild of America—This is an excellent resource, complete with bread baking facts, tips and tons of recipes. You can also search for bakeries by state.
Le Pain Quotiden—"The Daily Bread" respects simplicity. The bread is made with only three ingredients: water, flour and salt. Currently this bakery is only located in two U.S. cities, New York and Los Angeles, but there are hundreds of locations in Europe.
POULTRY & MEATS
D'Artagnan—Some of the world's top restaurants order their organic game and poultry, sausages, pâtés and foie gras from D'Artagnan. It's also Mireille's pick on where to purchase duck breasts. All products are fresh and free of preservatives, growth hormones and antibiotics.
Grimaud Farms of California—specializes in Muscovy duck breast and Guinea fowl, also free of steroids, antibiotics and growth hormones. The web site contains many wonderful recipes for preparing duck.

Jamison Farm—Order a lamb that is free of hormones, antibiotics, herbicides and insecticides, and prepare Mireille's Grilled Spring Lamb Chops with Mint Marinade.

FRUITS & VEGETABLES
Frog Hollow Farms —Prepare Mireille's Grilled Peaches in Lemon Thyme Marinade and Barbecued Duck with Peaches with these organic peaches. Frog Hollow also offers 100% all natural fruit conserves and chutney spreads.
Jerzy Boyz—Don't let the name fool you, this organic apple and pear orchard is actually located in Washington State. Visit the small family-owned farm or order your autumn treats online.
Marche aux Delicies—A mushroom lover's heaven. Order any type of mushroom as well as the often hard to find delicacies Mireille references in French Women for All Seasons, such as fiddlehead ferns, white asparagus, and fleur de sel.
Locate a Farmer's Market near you: US Dept of Agriculture.
HERBAL TEAS
Yogi Tea— This is an excellent web site, complete with a store locator, a personal tea selector and seasonal tea recipes. Yogi Teas are rich in antioxidants (especially the Green teas), all natural and boast a variety that spans from Imperial Earl Gray to Kidney Detox teas.
T Salon—For those of you French ladies in the New York area, the experience of T Shop is worth the trip to any one of its two (soon to be three) Manhattan locations. Where else can you get a "tea cappuccino?" The web site is a bit hard to navigate, but you can place email orders for herbal tea in bulk.
WINE
As Mireille muses, "The more you know about wine, the less you know." After you've read her tutorials on buying and serving wine, start with this list of resources—compiled for beginners, wine "know it alls" and everyone in between. À votre santé!
Sam's Wine Warehouse—An extensive collection of wine with ample search options and an entertaining wine blog. This is a great site for wine beginners!

Premier Cru— For the blossoming wine connoisseur, this site offers a nice selection of hard-to-find wines.

Wine Zap— In addition to purchasing wines, use this web site to pair wines with your favorite recipes and dishes.
Check Local Wine Events— for wine tastings, festivals and events near you!