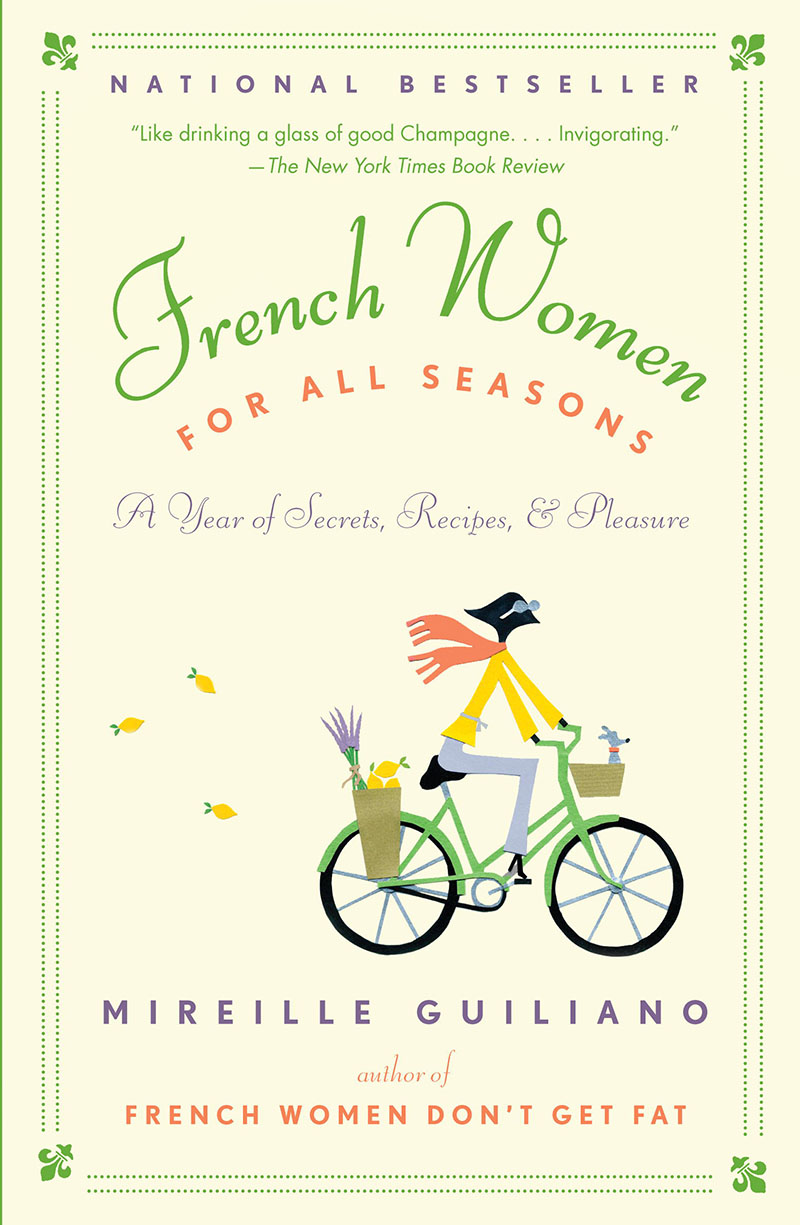 For the legions of fans who asked for seconds after devouring French Women Don't Get Fat, a charming and practical guide to adding some joie to your vie and to your table, every day of the year.
After being inundated with requests for more advice from her readers, Mireille's answer is this buoyant book, brimming with tips and tricks for living with the utmost pleasure and style, without gaining weight.
More than a theory or ideal, the French woman's way is an all-encompassing program that can be practiced anytime, anywhere.  Here are four full seasons of strategies for shopping, cooking and moving throughout the year. Whether your aim is finding two scoopfuls of pleasure in one of crème brûlée, or entertaining beautifully when time is short and expectations are high, the answers are here. And here too are 100 new simple and appetizing recipes that feature French staples such as leeks and chocolate and many more unexpected treats besides, guaranteeing that boredom will never be a guest at your table.
Woven through this year of living comme les françaises are more of Mireille's delectable stories about living in Paris and New York and traveling just about everywhere else – in the voice that has already beguiled a million honorary French women. Lest anyone still wonder: here is a new compendium of reasons – both traditional and modern – why French women don't get fat.
"In many ways better than its predecessor . . . more entertaining personal stories, more and easier recipes, and even fashion tips: how to dress like a French woman now that you eat like one."
— Regan McMahon, San Francisco Chronicle

"French Women for All Seasons is like drinking a glass of good Champagne: light and bubbly, a brief and mildly invigorating tonic for the mind and soul . . . with some very good recipes."
— Alex Kuczynski, New York Times Book Review
"Elegant common sense is a staple of French Women for All Seasons: A Year of Secrets, Recipes & Pleasure (Knopf), Mireille Guiliano's svelte sequel to her 2005 best-seller, French Women Don't Get Fat. "Spicy or woodsy" perfumes and oodles of oysters (Hemingway's Parisian weakness) for winter, craftily draped scarves for springtime in the park, are among this writer's principled delights. Her 50 Percent Rule ("How much should you eat? How about half?") is strategy for any season."
— Cathleen Medwick, O: The Oprah Magazine
"By now it is eminently clear to anyone even remotely interested in health, weight, and lifestyle books that Mireille Guiliano is an industry. Yet she is more: she is a splendid writer, a literary person, a wordsmith whose prose is effortless. Her first book, French Women Don't Get Fat seized the imaginations of readers as no such book has ever done, with millions of hard copies and paperbacks sold globally. Her website receives millions of hits, with even more hits on other sites generated on or about her."
— Richard L. Elia, Quarterly Review of Wines
"You've heard it before. . . . But somehow, when the advice comes from Mireille Guiliano, you actually listen. A perfect, slim (and slimming) read for dieters and bon vivants alike."
— Marie Claire

"This buoyant book brimming with fresh advice and seasonal stories — on food bien sûr (more than 100 delicious new recipes) but also on many other aspects of living that should bring us pleasure, such as picking a wine, dressing well, even arranging flowers."
— The Borzoi Reader Online

". . . The book in which she gets us ready to go with 100 delicious new stay-slender recipes, gives us her slimming 50% solution, and a superb miniature course in serving and selecting a good wine."
— New York Times Book Review
Buy the Book now.