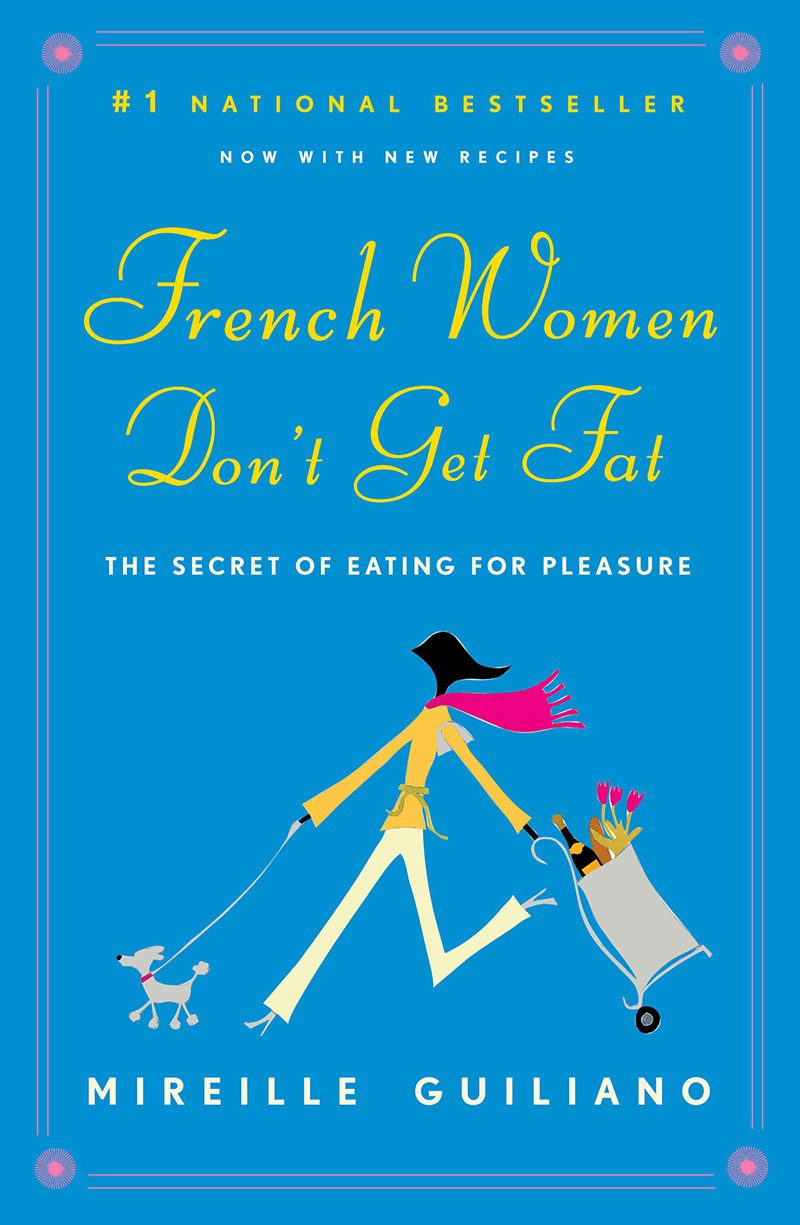 Stylish, convincing, wise, funny, and just in time: the ultimate non-diet book, which could radically change the way you think and live.
French women don't get fat, but they do eat bread and pastry, drink wine, and regularly enjoy three-course meals. In her delightful tale, Mireille Guiliano unlocks the simple secrets of this "French paradox" -– how to enjoy food and stay slim and healthy. Hers is a charming, sensible, and powerfully life-affirming view of health and eating for our times.
As a typically slender French girl, Mireille went to America as an exchange student and came back fat. That shock sent her into an adolescent tailspin, until her kindly family physician, "Dr. Miracle," came to the rescue. Reintroducing her to classic principles of French gastronomy plus time-honored secrets of the local women, he helped her restore her shape and gave her a whole new understanding of food, drink, and life. The key? Not guilt or deprivation but learning to get the most from the things you most enjoy. Following her own version of this traditional wisdom, she has ever since relished a life of indulgence without bulge, satisfying yen without yo-yo on three meals a day.
Now in simple but potent strategies and dozens of recipes you'd swear were fattening, Mireille reveals the ingredients for a lifetime of weight control–from the emergency weekend remedy of Magical Leek Soup to everyday tricks like fooling yourself into contentment and painless new physical exertions to save you from the StairMaster. Emphasizing the virtues of freshness, variety, balance, and always pleasure, Mireille shows how virtually anyone can learn to eat, drink, and move like a French woman.
First published in 2004, French Women Don't Get Fat ® has been a runaway success.  The book has been translated into 40 languages, reached number one on the New York Times best-seller list and went on to sell over 3 million copies worldwide (and counting).
"Ms. Guiliano turns out to be eminently level headed. She combines reasonable thoughts about nutrition with a general endorsement of joie de vivre, and her tone is girl friendly enough to account for the book's runaway popularity."
— Janet Maslin, New York Times
"This French Women book has just been released to great acclaim and, despite my aversion to the diet-like literature, I was won over by the amusingly simple cover illustration of a woman in a French blue top and saffron pants walking a poodle and pulling along a shopping buggy with pink tulips, a baguette, and what is surely meant to be a bottle of Veuve. The great treat in French Women is that it isn't a conventional diet book. There are no tables, no charts and none of that big screeching boldface type to encourage you to remember the book's key nostrums. Like, STOP EATING! In fact, French Women encourages just the opposite. Eat. Eat well. Eat slowly. . . It does no justice to this book to reduce it to a list. It's really about a state of mind. I'm particularly enamored of a phrase I had not heard: Je deprime donc je chocolate. When I'm down, I chocolate."
— Jennifer Wells, Toronto Star
"This isn't the 'Guiliano Diet.' Her book is about lifestyle. Forget low-carbs. Ignore high-protein. Too reckless. Too du jour. As she likes to put it: 'French women think about good things to eat; American women typically worry about bad things to eat.' "
–Thom Smith, Chicago Tribune
"Now, thanks to the release of French Women Don't Get Fat ®, the new non-diet book that is No. 2 on the New York Times Best Sellers list, leeks are getting as hard to find as a Hermés Kelly bag. . . Her secret lies. . . in eating the way French women do, savoring and enjoying the pleasures of food, rather than obsessing over it, feeling guilty about it and shoveling it in the way we Americans do. There's a lot to like in her philosophy, which includes a very passionately argued chapter about the folly of eschewing bread and chocolate, and why Hershey's n'est pas la meme chose as Godiva. Most encouraging of all, she suggests that climbing a few flights on your way to work or walking to the water cooler in expensive shoes is at least as good for you as going to the gym, and doesn't require one to change into unattractive clothes."

–Laura Billings, St. Paul Pioneer Press
Use the links below to visit the retailer of your choice.
for the Book:
for the Audio Book: