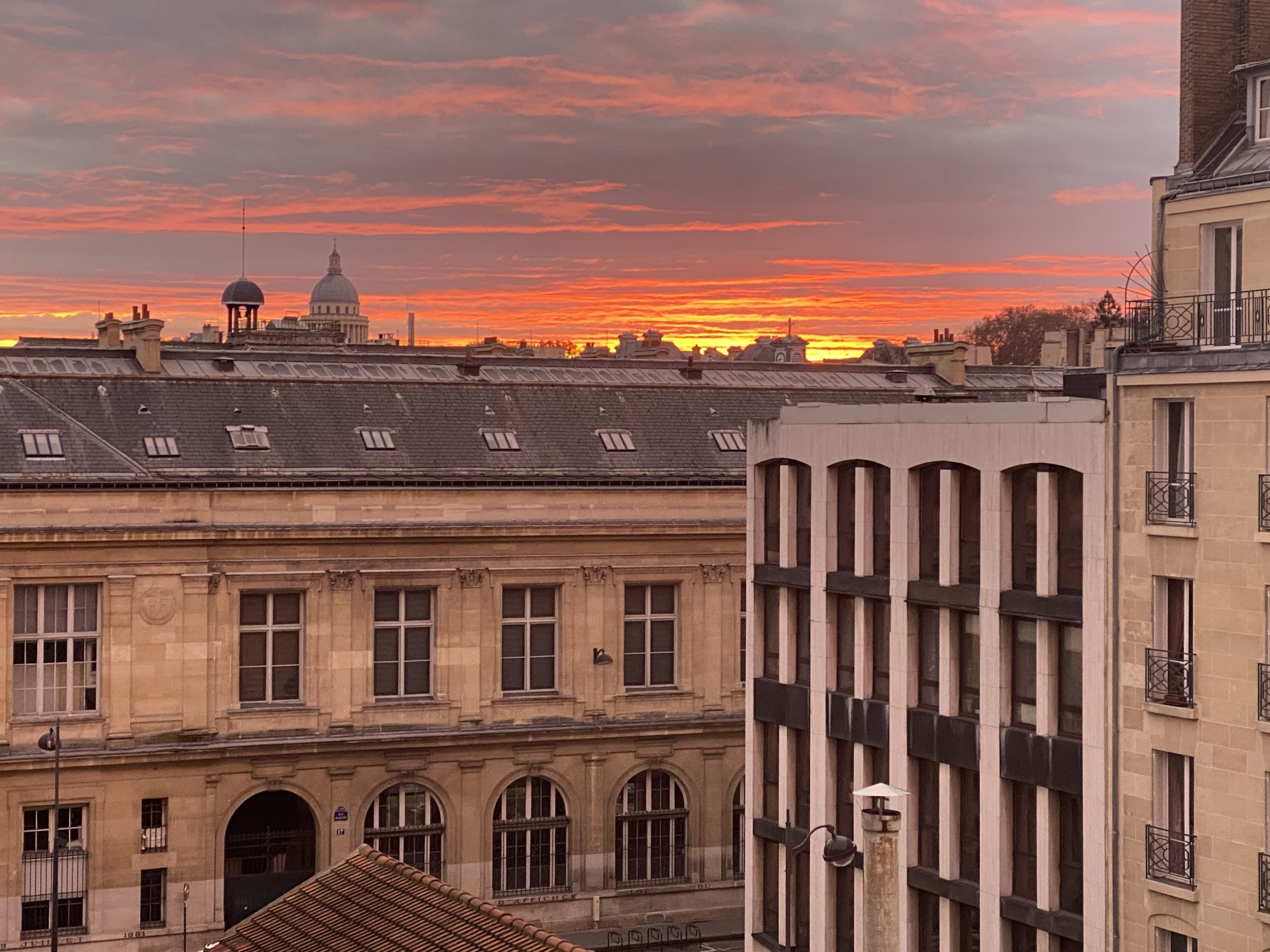 We were in semi-lockdown in Paris on January 1, and when I went out in the morning for croissants and bread to celebrate a new year, complete strangers coming and going would say to me "Bonne Année."  "Happy New Year, nice," I thought, but a little strange. Not so very Parisian. I don't remember having this experience before in France: strangers reaching out with warm sentiments. Of course, I did not have the experience of 2020 before. I took this unsolicited expression of hope as a sign of the times and people's need for connection and common humanity. But certainly, hope was the main theme when the clock struck midnight around the world.
Had civilization been put on hold while we hibernated?  Are we waking up? In 2020, we connected to the arts and humanities mostly by WiFi and Bluetooth. It felt good to hold real books and turn pages (including Edward's new Dickens and Women ReObserved), but it also felt bad to file away so many lost theater, film and concert tickets and plans. Being part of an audience is a social act and part of our common humanity that went missing. Except perhaps on Christmas Eve in France.
Living with a 9 p.m., then 8 p.m., and now a 6 p.m. curfew means no nightlife outside the home, and meant no New Year's Eve on the Pont des Arts watching a spectacular light and fireworks display at the Eiffel Tour. The national exception and liberty was no curfew on Christmas Eve, when the churches (houses of worship is not an apt phrase for France) were permitted to celebrate midnight mass, one of the great rituals in the French patrimoine.  Food and family and holiday rituals were the inviolate acts of 2020 for the French and many others around the globe. Their pull and comfort were undeniable if at times unsafe and selfish.
So, Edward and I were excited to take a walk through our Left-Bank neighborhood on Christmas Eve. We count this privilege as one of our blessings when we are here for the holidays, to walk the streets and visit the great Cathedral of Saint Sulpice and its neighbor, the Church of Saint Germain-des-Prés. I have shared this experience and its merits before. The organ in St. Sulpice is one of the marvels of the music world, and imagine our delight when around 10 p.m. we entered the surprisingly uncrowded doors of this massive church and heard the organ singing on high. What a truly glorious sound. There were only a dozen people in the cathedral, so we had a safe and privileged concert. It turned out the organist was rehearsing with a solo trombonist for the upcoming mass. It was the best and strongest musical experience of our year. Next, we walked four minutes to Saint Germain-des-Prés, as is our usual route to sing some carols in Latin at the midnight mass that begins at 10:30 or 11, seemingly contingent upon when the bulk of the flock has arrived. We entered passing a row of soldiers with machine guns and found a quiet pew near the rear. The church continued to fill up, and distances were not being respected. The procession of the clergy down the center isle from the rear to the alter is impressive. Frozen in time and tradition and colorful. Until the head priest walking alone at the end of the procession passed us not wearing a mask. We lost our ecumenical spirit then and left after one "song" in "an abundance of caution." Let it be noted our Christmas Eves in New York are far different.  Enjoyable but different and absent churches.
As we wandered back to our apartment to see the midnight concert and fireworks live from Versailles on TV, it was somber passing the deserted streets of Paris—some blocks without a single light in any apartment shining. Very quiet. We figured here in the heart of Paris, perhaps 80 percent of the residents were off in the countryside somewhere enjoying the holidays with friends and family in presumed safety.  At least we wanted to think that. We had passed much of the past year not traveling or in New York or in Paris, but in Provence.  We experienced a kind of retirement we had not planned on but appreciated, one especially rich in nature, wellness, and each other.
We traditionally like to "count our blessing instead of sheep" this time of year. It is healthy. And we all are blessed in some ways big and small as we enter 2021.  On Christmas Day, we were guests at a friend's home for a traditional meal, a recuperative pleasure for four people born in four different countries.  It is such a shared world and human experience.
Best wishes,
Mireille