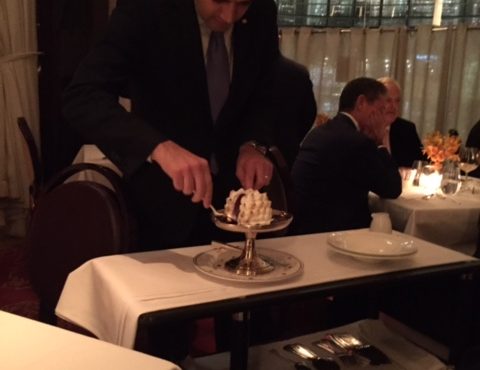 Where are all the serious critics going? True, the menu seems understated, casual, and yet so many places at that price offer average (or mediocre) food either too elaborate or too salty and often it is too noisy, you know what I mean.
Those who know me by now know that I only write about places I like.
And as a guest last Saturday, I had a scrumptious meal and more. The place is stunning, the service amazing and the food wowowow. Bravo, Raphael François, for spoiling us, and listening to the neighboring tables, ohlala are you making happy people. Merci. New York is privileged to have you after Paris and London. Keep the superb creations coming.
The red snapper crudo was sheer delight, with cauliflower and pomegranate, a delicious combination/texture. And whatever spices used gave it that additional "hmm, I could have some more" feeling. The agnolotti were proof that one does not have to be Italian to create great pasta dishes, and this one surely was in that category. Our neighbors seemed to agree on that too. The soup du jour was equally out of this world, announcing the Thanksgiving season with your own touch, and so was the chateaubriand (the crust is a winner) served with the oh-so-yummy potato croquettes and mixed veggies….the pre-dessert of panna cotta caviar was my second time, and I enjoyed it equally again, but then, of course, the dessert du jour is something I could not pass and almost made me cry as my uncle who had his own restaurant in a spa town fed all these "cheaters" at night with his "omelette norvégienne." I have had it a few times in France since but never equaled until yours… To think "baked alaska" is not what I look for because it's too sweet and too meringue. Yours hit the right spot…soft, just sweet enough and perfectly baked with a good choice of ice cream and bit of genoise for a perfect end to a truly grand meal…oh I forgot, your homemade little macarons, another gem of petits fours.
Merci merci merci.